House GOP gains momentum on border package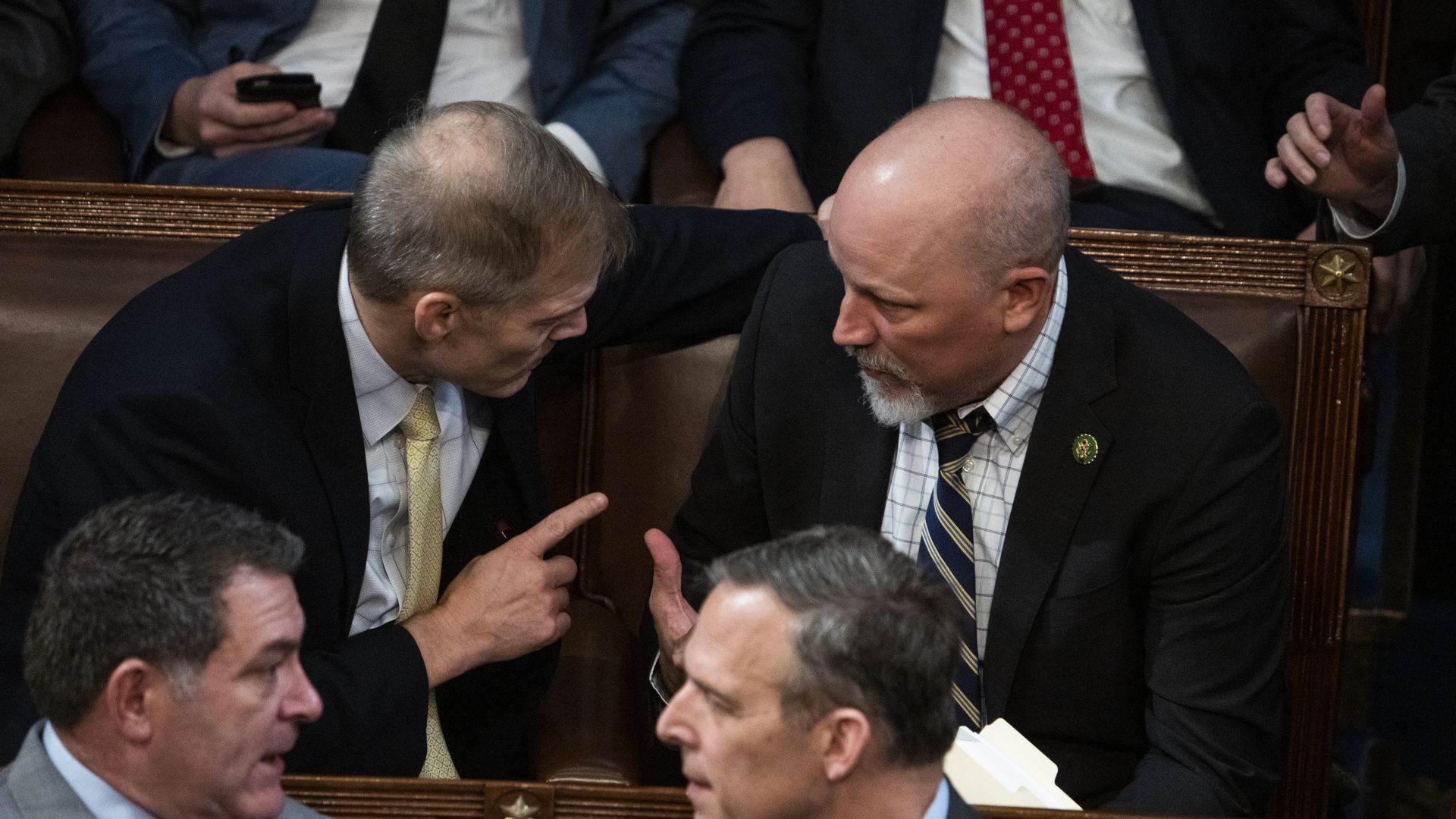 Reps. Mark Green, R-Tenn., Jim Jordan, R-Ohio, Scott Perry, R-Pa., and Chip Roy, R-Texas. Photo Tom Williams/CQ-Roll Call, Inc via Getty Images
House Republicans are trying to unite a fractious caucus over a sweeping border security package aimed at cracking down on illegal border crossings.
Why it matters: Speaker Kevin McCarthy (R-Calif.) pledged to bring the politically hot issue to the floor early this Congress, but finalizing passable legislation in a closely divided House has proven challenging.
No final border bill is expected to get Democratic support, leaving Republicans little wiggle room for defections.
Zoom in: The package is likely to be a combination of two bills that are designed to severely restrict access to asylum, bolster deportation and detention and strengthen border infrastructure.
Historically high levels of migration at the U.S.-Mexico border over the past two years have presented logistical, humanitarian and political crises for the Biden administration.
The end of a pandemic policy called Title 42 on May 11 is expected to sew further chaos.
The House Judiciary Committee on Wednesday marked up a bill that would severely restrict asylum and require employers to ensure workers are legally able to work via E-Verify.
It would also allow for long-term detentions of families who illegally cross the border and more rapid deportation of migrant children who cross without their parents.
The committee passed an amendment striking key, controversial language that would have blocked entry to the U.S. for migrants who could not be detained, removed or expelled.
The amended version of the bill still prevents border officials from releasing migrants into the U.S. after they illegally cross the border.
On Friday the Homeland Security committee will introduce its own border bill focused on border infrastructure, technology and personnel, according to a GOP lawmaker who requested anonymity to speak freely.
The bills are expected to be combined and then brought to the House floor for a vote in late May.
What we're hearing: Hispanic Republicans who have been leading the charge against more hardline provisions struck an optimistic tone about the Judiciary committee's legislation on Wednesday
"We're feeling really good," Rep. Mario Diaz-Balart (R-Fla.) told Axios, "We're, in essence, in agreement."
Rep. Tony Gonzales (R-Texas), who has threatened to oppose the GOP's debt ceiling bill if harsh border policies make it into the bill, said "a lot of progress has been made."
"I give it to leadership," Gonzales added, "Leadership has worked very, very hard on working across all parts of the conference to come up with a solution."
Homeland Security chair Mark Green (R-Tenn.) told reporters Tuesday that he and Judiciary chair Jim Jordan (R-Ohio) have coordinated their respective bills.
While moderates expressed reservations about how far the initial Judiciary bill went, Green said he wished Jordan could have tightened restrictions further.
Jordan and Green have paid close attention to their respective committees' jurisdictions in divvying up which parts of border security each would tackle — with leadership heavily involved, according to the Republican lawmaker involved in the process.
The intrigue: The border debate over the past few months has pitted Gonzales (R-Texas) and Chip Roy (R-Texas) against each other.
The policy feud spilled into thinly veiled jabs on Twitter, TV and even the House floor.
Gonzales has been adamantly opposed to a bill introduced by Roy, which would block migrants and asylum seekers from entering the country if the U.S. lacked resources to detain, deport or expel them.
A similar measure had initially been included in the Judiciary bill.
Source: Read Full Article